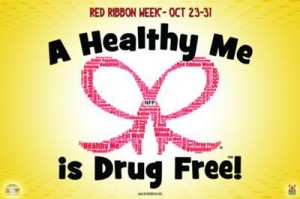 The 2013 Red Ribbon Photo Contest is happening from now to November 4, 2013. Will you help us inform families in your community about their chance to win an iPad for the home and $1,000 for a local (K-12) school from the National Family Partnership.
Studies show that parents who talk to their children about the dangers of drug abuse are less at risk, and that's what this contest aims for: to encourage families across America to discuss prevention.
Please help us by forwarding this information to parents, teachers, students, and community leaders … we hope a family and school from your community wins this year!
Here's how the contest works:
Students (K–12) work with their family to decorate their home front door, mailbox or fence with a red ribbon and this year's theme: "A Healthy Me Is Drug Free."
Participants upload a picture of the decorations to the Red Ribbon websitebetween October 1st and November 4th and encourage friends, family, and colleagues to vote (November 5-19th) at www.redribbon.org/vote.
SHARE THIS OPPORTUNITY WITH FAMILIES IN YOUR COMMUNITY TODAY!
---
Red Ribbon Week (October 23-31) —the oldest and largest drug prevention program in the Nation—is a wonderful way for people and communities to unite and take a visible stand against drugs. This year's theme is "A Healthy Me Is Drug Free," created by middle school student, Aly Falck, in Solon, Ohio.
Thank you for your support for the National Family Partnership and Red Ribbon Week and for your unwavering commitment to the health and well being of our nation's children!