PRESS RELEASE: June 24, 2013
Community Anti-Drug Coalitions of America & National Highway and Traffic Safety Administration (CADCA/NHTSA) has invited the San Juan Island Prevention Coalition (SJIPC) to participate in a national project, the Communities of Practice (CoP) to Prevent Impaired Driving Project.
This innovative project funded by the National Highway Traffic Safety Administration (NHTSA), and CADCA will support the  local coalition's efforts to adopt and implement evidence-based and evidence-informed strategies to reduce impaired driving on San Juan Island and in San Juan County.  At CADCA's 2013 Mid-Year Training Institute (MYTI) in Austin, Texas, from July 21st-25th, the CoP coalitions will convene to gain knowledge, increase capacities, and network to develop and implement strategies addressing alcohol and drug-impaired driving.
"Our community coalition will determine what strategies and practices will work best for the San Juan Island community.  The ten communities selected for the project represent very different and diverse communities in the nation.  SJIPC represents the small and rural community without stop lights and freeways.  Our conditions are quite different than a large city, however, we have the issue of impaired driving and crashes.  I am excited that SJIPC's chair, Brad Fincher, has agreed to lead this project," states Cynthia Stark-Wickman, Executive Coordinator of San Juan Island Prevention Coalition.
Brad Fincher, Chair and Cynthia Stark-Wickman, Executive Coordinator, of the San Juan Island Prevention Coalition will be joined by Rob Nou, Sheriff of San Juan County for this initial training and networking opportunity in Texas. In addition, Debbi Fincher, parent volunteer and media specialist for the SJIPC will participate in in-depth training sessions geared specifically for community coalition leaders.  According to Coalition Chair Brad Fincher,  "This is an excellent opportunity for the courts, the prosecuting attorney's office, and law enforcement to work together with the coalition on prevention strategies.  The selection of SJIPC as a participant in the project is an indicator of the great work that the coalition has already accomplished on San Juan Island."
About CADCA
Preventing alcohol, tobacco and other drug abuse is no easy task. However, since 1992, CADCA has demonstrated that when all sectors of a community come together —social change happens. CADCA is the premier membership organization representing those working to make their communities safe, healthy and drug-free. CADCA has members in every U.S. state and territory and works in 18 countries around the world. Special programs within CADCA are supporting our returning veterans and their families and training youth leaders to be effective agents of change –all through the coalition model, which uses the Strategic Prevention Framework model of community change developed by the Substance Abuse and Mental Health Administration (SAMHSA)
CADCA's network of more than 5,000 community coalitions brings together key leaders within the community to address local conditions from underage drinking to prescription drug abuse. Coalitions are comprised of parents, youth, educators, law enforcement, the faith community, healthcare providers, social service providers, civic and government officials, business leaders, members of the media and other concerned citizens.
For more information about San Juan Island Prevention Coalition, go to www.sjipc.org and like us on Facebook!
San Juan Island Prevention Coalition  has been supported by a federal Drug Free Communities Support Program grant since 2003.  The DFCSP grant is funded through the Office of National Drug Control Policy and managed by SAMHSA.
Photo at CADCA Mid-Year Training Conference 2011.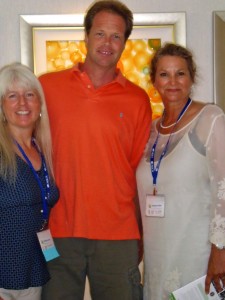 Debbi Fincher, Brad Fincher and Cynthia Stark-Wickman