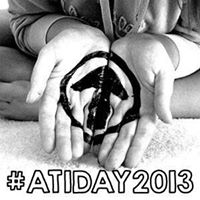 GET YOUR TEENS AND JOIN US FOR
NATIONAL "ABOVE THE INFLUENCE" DAY OCTOBER 17
Washington, D.C. - TOMORROW, October 17, 2013, The Partnership at DrugFree.org and its partners will be joined by teens from across the country to celebrate National "Above the Influence" Day.
ATI Day is a time to celebrate youth living the "Above the Influence" lifestyle, as well as to recognize the power of prevention efforts in local communities.  Many youth-serving organizations are hosting ATI Day events and activities in their communities to recognize and empower teens living "above" the pressure to use drugs or alcohol or engage in other risky behaviors.
It's not too late to get involved!
All teens are invited to participate in the National ATI Day Social Media Challenge, so even if you're unable to host an event or they can't make it, please encourage them to join the Challenge.
To participate, all they need to do is take a picture of the ATI Arrow logo on their hand, leg, shoe, skateboard or some other cool place that demonstrates they live "Above the Influence" and post it to their favorite social media site with the tag #ATIDay2013.
Pictures from across the social media sites will be aggregated into the ATI Day social media board housed on the ATI Facebook page for teens to view and watch live (
www.facebook.com/AbovetheInfluence
).
You can help promote teen participation by downloading, printing and posting the 
ATI Day Social Media Challenge flyer
 around your site/school, and by sharing the event on your organization's Facebook and other social media sites.
If your organization is participating in ATI Day 2013, we'd love to hear from you.  Please share your stories and photos with us after your event.  You can email them to: 
ATIResources@fleishman.com
.
Anti-Drug Update is your source for the latest news on the "Above the Influence" campaign.  Feel free to forward this information to your community partners and announce this information on your website or in your organizational newsletter.
About the "Above the Influence" Campaign
"Above the Influence" is a program of the White House office of National Drug Control Policy.  The "Above the Influence" campaign has been reaching teens for more than seven years through television, print, radio, and online media. ATI's efforts in local communities focus on connecting directly with teens and local youth-serving organizations to deliver messages, activities, and support to help the Nation's youth stay "above the influence" of drugs, alcohol, and other risky behaviors. Multiple scientific findings indicate that teens that have increased exposure to and engagement with the "Above the Influence" campaign have stronger anti-drug beliefs and is significantly associated with reduced drug usage.