The San Juan Island Prevention Coalition, (SJIPC) helps support youth leadership training opportunities for local teens, with an ask to give back to their community with their new skills. The WA. State Prevention Summit in Yakima, draws over 400 youth.
Rock Solid, a youth prevention club, was created by Zach Fincher on the car ride home after attending his first Summit in 2011. In May 2017, Rock Solid won Grand Prize for their community project at the Spring Youth Forum, competing amongst 44 teams from across the State. Rock Solid was asked to present at this year's Summit.
Here's what some of their members had to say.
"It was really great seeing how our project impacted and inspired other groups. One small group of girls came up after one of our presentations, asking if we had any tips to "get to where we are". It really opened my eyes to see we have gotten to a goal so many strive for. For that, I am grateful for this opportunity to learn from others and teach others, including myself."  Chiara Power, Rock Solid
"It was a good feeling helping others by sharing our experiences in prevention projects. I never really thought about it before, but hearing from these teens, they said they really admired the work we did for our community and wanted to know how they could do something like this for their community. It kind of made my day." Luke Fincher, Rock Solid
"As a presenter this year, I get to pay it forward to the next group of teens at the Summit, all wide-eyed and eager to help bring back positive change for their schools and communities. I have been inspired to help others because of my involvement in community prevention projects that took shape at this Summit. I'm grateful to the SJIPC for supporting our efforts." Zach Fincher, Rock Solid
"Dear World, I wish to strive with positive and inspirational thoughts that will not only help me, but help others that surround me, and around the world to help them with whatever they are going through. I want to let them know they are not alone and maybe if more people spoke more of positive, inspirational thoughts and ideas, maybe it could help our communities be stronger." Jaida Cruz, Rock Solid
Members of HOTS (Helping Out Teens Society) at FHMS also made the trek to Yakima.
"I found our Emcee, Jordan Chaney, to be very inspirational. I enjoyed the various workshops, but what I most enjoyed was meeting new people. A shoutout to our Lopezian Coalition friends we met at the Summit and enjoyed a friendly game of Uno with on the ferry ride home! Robin Taylor, HOTS
"It was a memorable experience, I have to say that the poetry workshop was very emotional. I wrote a ballad, and I think that poetry is a great outlet. Overall, I suggest someone goes to the Summit at least once in their life, who knows, maybe I'll present there one day.    Ramona Flierl, HOTS
Powerful, Prevention Works!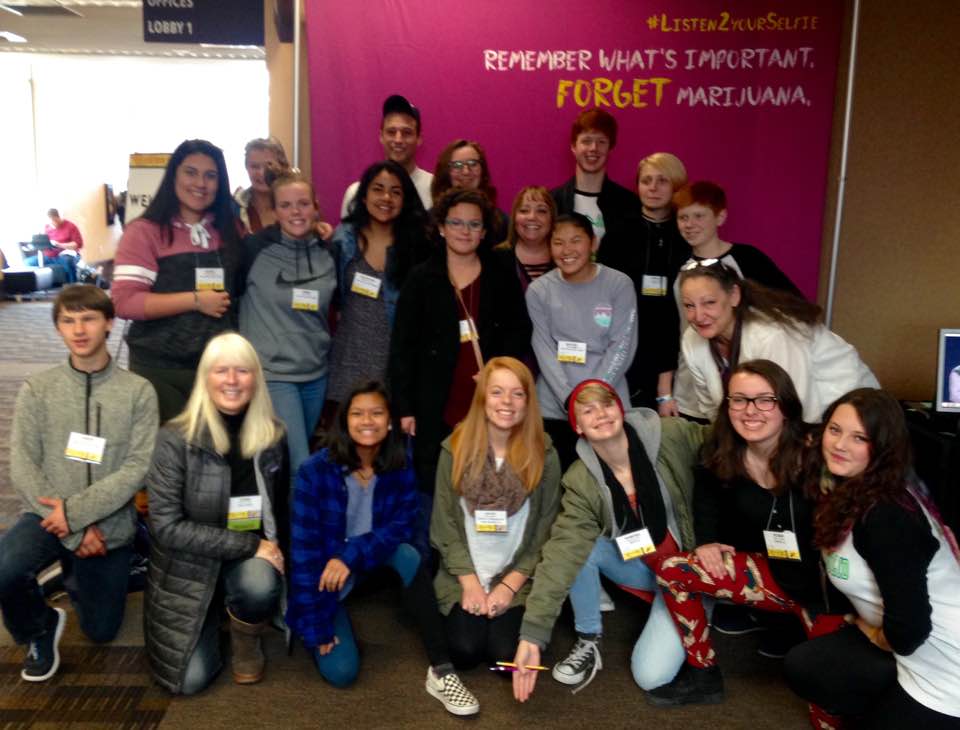 PHOTO: San Juan Island and Lopez Island Prevention Coalitions meet up in Yakima for the WA. State Prevention Summit. Youth, Chaperones, and Coordinators working together to create positive change in our communities.