YMFHA Flyer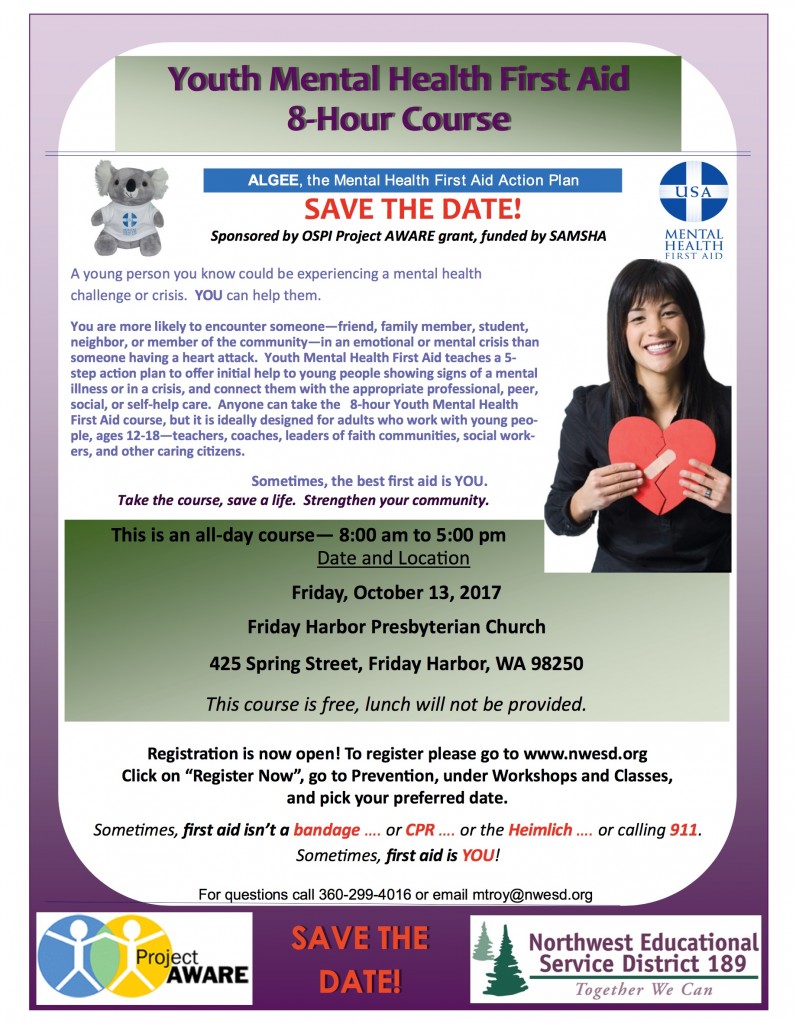 Course Description:  Youth Mental Health First Aid is a public education program that introduces participants to risk factors and warning signs of mental illnesses, builds understanding of their impact, and overviews common supports.  This 8-hour course uses role-playing and simulations to demonstrate how to offer initial help in a mental health crisis and connect persons to the appropriate professional, peer, social, and self-help care.  The program also teaches the common risk factors and warning signs of specific types of illnesses, like anxiety, depression, substance use, bipolar disorder, eating disorders, and schizophrenia.
 Participants will learn how to:
Assess for risk of suicide and harm
Listen non-judgmentally
Give reassurance and information
Encourage appropriate professional help
Encourage self-help and other support strategies
Target Audience:  Teachers, Coaches, Counselors, School Administrators, Volunteers and Youth Workers who work with Middle School/High School-aged students, Parents and General Public
 Sponsored by Project Aware grant with the Northwest Education Services District (NWESD).
San Juan Island Prevention Coalition thanks the NWESD for bringing this training to San Juan Island as a key component to SJIPC's Mental Health Promotion and Suicide Prevention efforts through our Community Prevention and Wellness Initiative (CPWI) support system with the Division of Behavioral Health and Recovery (DBHR)!