Reaching the Summit, Now the Real Work Begins
A group of local teens, their adult team advisors and chaperones made the annual trip to Yakima for the Washington State Prevention Summit. Our youth teams from San Juan Island are sponsored with grants through the San Juan Island Prevention Coalition.  Our teams are Rock Solid and H.O.T.S., Jr (Helping Out Teens Society at Friday Harbor Middle School), which together included: four 7th graders, an 8th grader, a 9th grader and an 11th grader.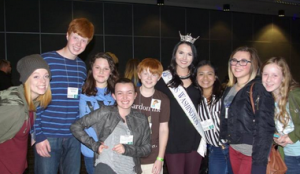 Over 400 students from across the state join forces to learn more about the world of Prevention and gain new leadership skills. These teens are tasked with returning to their communities and putting together a project in prevention. This is where the real work begins.  We ask you to help support these youth as they work on ways to help create positive change in our community and schools.
Upon reflection, some of our students shared their insight to this 2 day Summit. Chiara Power, a 9th grade student at Friday Harbor High School shares, "It really was a pleasure to see so many young people open their minds to prevention. They all were there for a reason and they all made it count. They sat through a four hour lecture and paid attention, took notes, and most importantly, took it to heart. We had up to 5 lectures in a row and I was amazed how everyone stayed engaged and focused. Because they knew it was for us. To see people do that really restored some faith about our generation. It was an amazing experience and I hope I get to go to another one." Zach Fincher, a junior at Friday Harbor High School recalls, "The Prevention Summit covers many topics from Depression to Gambling, but I particularly liked the one called Leadership 201: Written Communication. I gained new insights and sharpened my skill set through the power of the written word. These are skills I can use now and will help me as I plan my future." This was Zach's 6th year attending the Prevention Summit. Luke Fincher, Zach's younger brother and 7th grader at Friday Harbor Middle School, made the trip for the first time. Luke shares," I learned that 1 in 8 adolescents in WA. reported being depressed. I learned ways I can help others struggling with depression and to break the silence around talking about youth suicide."
Not only do the youth have these powerful learning moments at the Summit, but the adult chaperones and team advisors share similar sentiments. Cindy Gutierrez, San Juan Island Prevention Coalition Trustee admits, " I feel much more connected to our goals as a coalition, having the opportunity to experience the Summit firsthand. I learned something new in each workshop, but honestly, I mostly enjoyed being with the kids and soaking up their enthusiasm. I hope to attend more conferences in the future. I understand more of our mission now!"
Navigate Your Future was this year's theme. We are grateful to the prevention workforce in our State that collaborates and organizes such meaningful, enriching and culturally appropriate training and networking opportunities for youth, volunteers and professionals who are working to prevent substance abuse, violence and other destructive behaviors in their communities. As well, the Summit integrates prevention efforts with primary healthcare and mental health promotion. The San Juan Island Prevention Coalition mission is to reduce substance abuse in youth and to create a community culture supporting healthy choices and responsible behaviors in youth and adults. Our Executive Coordinator, Cynthia Stark-Wickman, is instrumental in pulling together these funds, often writing grants, to support youth leadership training, a hallmark of our SJIPC efforts since 2004.
Watch for good things to come from this experience and these youth, as they share the power of prevention in their upcoming projects. Thank you for supporting these teens and the mission of the SJIPC. Here's to a Healthy 2017!
Debbi Fincher, Rock Solid Team Youth Advisor & SJIPC Media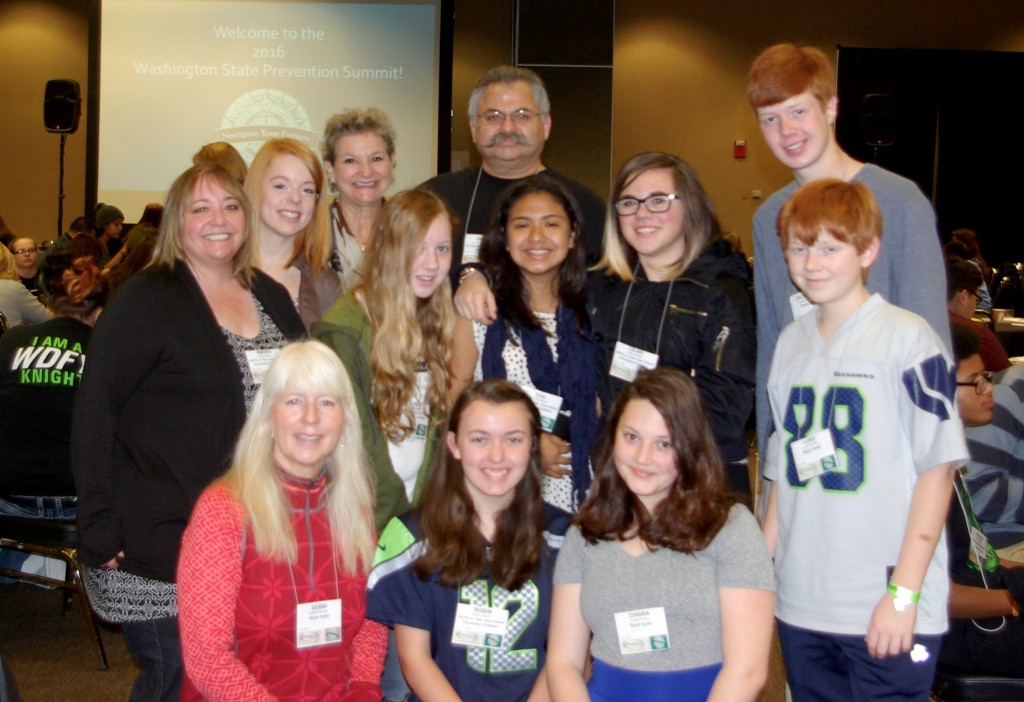 The San Juan Island Prevention Coalition Teams! Back row: Cindy Gutierrez, Joyce Wells, Cynthia Stark-Wickman, Andy Gutierrez, Zach Fincher, Middle row: Inga Harold, Eva Sanabria, Lilah Savlen, Luke Fincher, Front row: Debbi Fincher, Robin Taylor, Chiara Power
One way you can support our local youth is to take the annual community survey created by the State. This anonymous survey is part of our funding requirements by the State and helps guide future planning for prevention programming.  Thanks!
Online Survey English:
https://www.surveymonkey.com/r/SASAON2016
Online Survey Spanish: