Ready for summer? Here's a planning guide to help you get the most out of the summer months. Local activities and programs, free and fee based, are listed in this concise guide. We offer this FREE service to our community in an effort to help keep youth engaged and connected each summer to help bust the boredom factor which can lead to risky behaviors.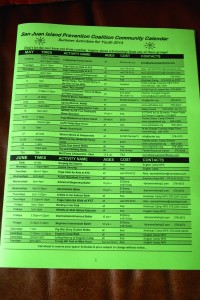 These bright lime green calendars are available at the Children's Festival today, May 3rd, 2014. And, we have a link here on the website you can print your own. In addition, we'll be sharing this link with SJIPC partners and supports to share with the community. Please share it, too:)
This is our 7th year now, offering this free calendar. If you have an event you'd like to add, please be sure to contact us by April 15 each year. It's free and the calendar is really only as good as the information on it, so getting everyone's info makes it a more valuable tool for families. Thank you! Have a safe and fun summer… Stay involved!