SAN JUAN ISLAND PREVENTION COALITION TO TAKE PART IN NATIONAL SUBSTANCE ABUSE PREVENTION CONFERENCE IN ORLANDO, FL.
To Learn New Strategies to Prevent and Reduce Substance Abuse
Friday Harbor, WA – Health advocates from the San Juan Island Prevention Coalition will join more than 1,700 substance abuse prevention specialists from across the country at Community Anti-Drug Coalitions of America's (CADCA) 2014 Mid-Year Training Institute in Orlando, Fla. July 20-24. The week-long training will take place at the Hilton Orlando Bonnet Creek Hotel.
CADCA's Mid-Year Training Institute is a one-of-a-kind intensive training opportunity, offering more than 70 half-day and two-day courses geared towards helping participants find solutions to their community's toughest substance abuse problems. Attendees participated in a variety of lecture and hands-on sessions to expand their knowledge in prevention science and improve their skills in implementing evidence-based strategies to reduce drug and alcohol use. This year's Mid-Year will feature a number of renowned experts in the field of substance abuse prevention, such as Michael Botticelli, Acting Director of National Drug Control Policy, and Kana Enomoto, Deputy Principal Administrator for the Substance Abuse and Mental Health Services Administration (SAMHSA).
"We are fortunate to be able to spend a week with other similar organizations from across the country, learning and honing our skills so we can more effectively prevent drug and alcohol abuse," says Cynthia Stark-Wickman, SJIPC, Executive Director. "We hope to return reenergized with new strategies under our belt to tackle drug use and its associated problems in our community."
CADCA's Mid-Year will cover a wide range of topics – everything from how to prevent prescription drug abuse and the abuse of synthetic drugs to how to create tobacco-free environments, reduce impaired driving and develop policies to reduce marijuana use and underage drinking.
The coalition is currently working on Distracted Driving Awareness Campaigns, Marijuana Education, especially as it pertains to the adolescent brain, in addition, Brad Fincher, Chairperson of the SJIPC and Sheriff Rob Nou will continue training in the Communities of Practice for Impaired Driving at this conference. As you may recall, our coalition was invited to participate in a nationwide effort to reduce impaired driving by the National Highway Traffic and Safety Administration (NHTSA) and CADCA.
We are also sending a team of local teens and their youth advisor, so they can continue to build their leadership skills and bring back new strategies and a renewed commitment to helping create positive change for their community and schools. Look for more info from them, when they return!
The SJIPC mission is to reduce substance abuse among our youth and create a community culture that supports healthy choices by youth and adults. 
Zach Fincher and Rachel May hold the Proclamation from Bob Jarman, San Juan County Council declaring May 16th Distracted Driving Awareness Day for San Juan County. As you may know, they were part of a team of local teens working hard to create positive change on this growing problem, Distracted Driving. These teens will continue their leadership training at the CADCA Mid-Year training conference.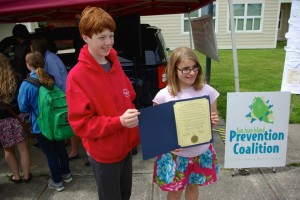 Debbi Fincher, Brad Fincher, Cynthia Stark-Wickman and Sheriff Rob Nou represent the San Juan Island Prevention Coalition at CADCA's Mid Year Training Conference in 2013. Our team is looking forward to attending this year, too!