Spring Swing & Sock Hop Community Dance – Sunday April 21st 3pm-4:30pm at the Mullis Center. Our youth invite the elders of the community to come enjoy LIVE music from their childhood. Let's enjoy an afternoon together…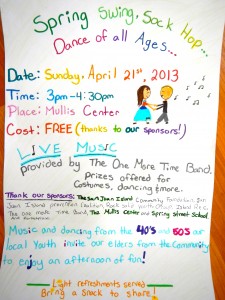 Free, thanks to our sponsors! Please thank the San Juan Island Community Foundation, The San Juan Island Prevention Coalition, Rock Solid Youth Group, Spring Street Int'l School, The One More Time Band, Mullis Center, Island Rec and Marketplace.
Light refreshments served. Bring a snack to share. Door prizes and prizes for costumes and dancing, too. Get those poodle skirts and saddle shoes ready!  Hope to see you there!